Explore the world with GIS!
ABOUT US
The City of McAllen's Geographical Information System (GIS) combines mapping software with relational database technology to produce
a method to access information concerning any city asset. These assets may be concerned with but are not limited to water or sewer utilities,
public works truck routes, parcels, election districts, public safety, parks and recreation, streets, transportation or entertainment.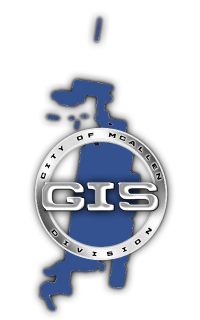 West Way Heights RDF
OUR MISSION
The mission of the City of McAllen GIS is to provide an information system that represents the geographic location of the City's assets
along with a database of information relating to those assets in a clear and useable platform that will enable the City leaders, staff and citizens
to make more intelligent decisions that will shape the future and improve the quality of life in the Rio Grande Valley.
Sarah Avenue Drainage Improvements
OUR MAP GALLERY
The City of McAllen Maps Gallery is the place where you can find maps and apps that increase transparency and help you interact
with your local government. The maps and apps are organized around city services and the information you need to do business with the City of McAllen on a daily basis.
You will find maps and apps provided by the City Information Technology Department, Community Relations, Public Utilities, Fire, Police, Emergency Management,
Public Works, and Transportation, Engineering and Development. The site will also highlight innovators and innovations that demonstrate a more collaborative and open government.
This site is made possible by the City of McAllen GIS Group. The City of McAllen began developing its Geographic Information Systems (GIS) technology in 2002.
GIS and related-technologies help city staff manage new development and changes in our infrastructure and natural environment.
Click on the image of your choice to view or launch content.

Notice:
To view page web browser may require the following:
Google Chrome 96.0+
Mozilla Firefox 98.0+
Internet Explorer 20H2
Windows Edge 98.0+
Browser updates are recommended for the best viewing results
CONTACT US
Please provide us with your feedback!
Phone: (956) 681-1111
Email: gis@mcallen.net